THE TWO HAITIs: Tourism the hope for Haiti.
< Previous | Home | Next >
AMID THE WOE, A HAITIAN PARADISE.
By MARC LACEY
Posted on PrevalHaiti.com by: Wilgeens Rosenberg
The Royal Caribbean cruise ship "Voyager of the Seas" docked at the Labadie beach resort in northen Haiti at the end of January.
Further discover the other Haiti, a Haitian Eden
(CLICK ON LINKS FOR IMAGES & VIDEO):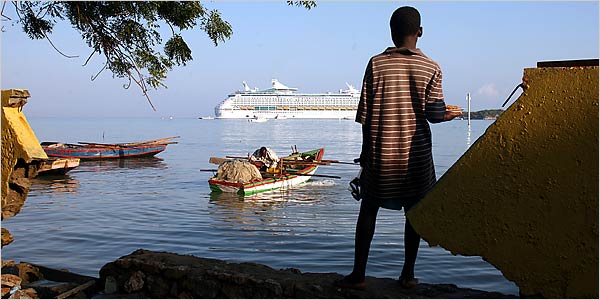 More Preval Photos - More Haiti Pictures -
Haitian Celebrity Photos
http://video.on.nytimes.com/?fr_story=
LABADIE, Haiti -- There is Haiti, the poorest nation in the hemisphere.
And then there is this slice of Caribbean bliss surrounded by security fencing with all-you-can-eat buffets.
This other Haiti has a stunning stretch of white sand between turquoise water and lush rolling hills.
There are Jet Skis and beach chairs, and work is under way on a zip line that will send giddy adventurers across the bay on harnesses at heart-pounding speeds.
On a recent morning, Labadie was filled with several thousand people just off a Royal Caribbean cruise ship frolicking in the waves, bartering in the craft market and taking in the voodoo show. None of them would experience Haiti's rail-thin children, the mounds of garbage and open sewage dumps or the heavily armed peacekeeping troops struggling to keep a lid on the sprawling urban slums.
"It's beautiful," said Marlene Peacock, a tourist from Tobermory, Ontario, gazing up at the forested hills.
"I didn't know it was hilly."
There is much that is unknown about Haiti, said Patrick Delatour, the optimistic tourism minister, who wants to turn his country, the world's oldest black republic, into a full-blown tourist destination.
Mr. Delatour realizes that Haiti has a long way to go before it competes with its Caribbean neighbors, which have much more tourist infrastructure and much less insecurity.
While Cuba, the Dominican Republic and Jamaica each have tens of thousands of hotel rooms, Haiti has just 850, down from about 4,000 a quarter century ago.
"I'm fighting an uphill battle," he acknowledged.
"Haiti is a place that is in the news, and it's always bad news. We don't help with the development of our own reputation."
Royal Caribbean used to play down the fact that this stop is in Haiti, referring to its location as Hispaniola, the island shared by Haiti and the Dominican Republic.
It changed its description after Haitian officials complained.
Any reservations that visitors have about Haiti seem to disappear once they set foot here. "You think of Haiti, you think of poverty," said Dave Scott, who runs the resort for Royal Caribbean.
"You think of violence.
You think of politics.
You think of a suppressed people.
But when they actually sail into the bay and they see the pristine sand and the blue seas and the smiling people, their whole attitude changes."
Royal Caribbean temporarily pulled out of Haiti in 2004 after a security guard was shot at the front gate during the armed uprising against former President Jean-Bertrand Aristide, who is now in exile in South Africa.
But within three months, when the country settled down, the cruise ships were back.
Mr. Delatour is trying to build on the 20-year relationship with Royal Caribbean.
The government receives $6 for each of the nearly 40,000 people a month who come ashore.
But Mr. Delatour wants the visitors to go beyond the fencing.
One draw is the Citadelle, a well-preserved mountain fortress dating to 1817 that still has cannons in place and piles of cannonballs, as if awaiting the return of Napoleon's forces.
He also wants vacationers in the Dominican Republic to take bus trips into northern Haiti as they once did, before the road on the Haitian side fell into disrepair.
Mr. Delatour imagines visitors staring up at the gingerbread architecture of the houses in the northern town of Cap Haitien.
He also dreams of an international airport in the north, resort hotels dotting the coastline and hefty tourist revenues.
Much of the government's inch-thick master plan for turning Haiti into a big-league destination can appear like wishful thinking, given the country's reality -- propped up by international assistance and still suffering serious bouts of violence, especially in Port-au-Prince, the capital.
Mr. Delatour, an architect who specialized in restoring historical sites, scoffs at the pessimists.
Jamaica had severe urban violence even as its beach resorts bloomed, he said. The key for Haiti, promoters of tourism here say, is for visitors to avoid the capital for now and head to more tranquil corners of the country.
"Yes, there is violence in Port-au-Prince," he said. "But you could sleep on the beach in Jacmel and you'd be safe."
Haiti was once a place of thriving resorts.
Then the AIDS scare in the 1980s and the political instability that came with the ouster of the dictator Jean-Claude Duvalier in 1986 frightened off most potential visitors.
Haiti had a Club Med about an hour outside of Port-au-Prince from 1975 to 1986. It closed because of political violence, reopened in 1995, then closed again a few years later.
There, and at other former resorts on the north coast, only peacekeeping troops on leave can be found these days.
"Here you have a virgin coastline, a beautiful coastline you can do anything with," said Mr. Scott, of Royal Caribbean.
But running a first-class resort in such an undeveloped country has its challenges.
With no reliable electricity, Labadie has to rely on huge generators.
All food served to the passengers who disembark is from the ship and prepared there.
Although Royal Caribbean hires hundreds of local residents, many feel left out.
"It was like living a dream to be on there," said Victor Emmanuel, 34, who had a job scrubbing the cruise ship while passengers were ashore.
But he and some other residents of a nearby village said they lost their jobs not long ago when something was reported missing on the ship.
Although passengers who sign a waiver and present a passport can leave the Labadie compound, most seem perfectly content to remain on their isolated cove.
"I don't want to see poverty," acknowledged Helen Murphy, 66, of St. Paul, who was shopping in the tourist market one morning.
"I'm on vacation.
I don't want to think that these people don't have enough to eat.
MESSAGE BY WILGEENS ROSENBERG: HAITI's Government and its people domestic and abroad could start contributing in helping to turn Haiti's many little coast Islands into resorts by building hotels, Houses to rent, Clubs and restaurants and Shops by invinting investors and incentives be given to Haitians who actually invest in Haiti.
As well as I believe Training Army, Air Force, Navy and Marines Bases in the provincial cities can be built to help shift the focus on the congesting Port-Au-Prince by drawing people to move up North or South of the country to start buying lands, building roads, houses and communities where the infrastructures there have not been constructed which would lost way less since it wouldnot require to reconstruct or re-infrastructurize those area as it would much require for Port-Au-Prince.
Once people start to dicipate around other regions of the Northern and Southern part ofthe country thus will allowing a chance, time, and space to start rebuilding, Cleaning and re-beautified Port-Au-Prince and other main capitals like Port-Au-Prince which intheprocess will create many jobs and opportunity to destroy the slums and built gated projects and modern apartment communities, roads and rejuvenating the image of the cities drastically by improving the Ports, build amusement and recreational parks and structuralize Haiti's Main SuperMarket places and impose rules, categorize stocks as to where certain produces, alimentations, products and provisions must and be allowed to be sold in the Market places.
Implaces garbage cans, drums, barrels disposal and contract trucks to patrol and issue amanded tickets to violators who litter, vandalize, destroy or disfigure any property be it owned by government or Private institutions.
The Privatization of many organization, institutions must start to take place in HAITI.
City line and limit laws and rules and TOLL and TAXES must be amended thus appointing governors, mayors officials to other major cities and regions of the country to be responsible in balancing their city budgets and revenue accordingly and constant records and periodical reports to the main government is a must and so shall the Government to Parliament.
Those are just ideas and suggestions or recommandations and many other inputs are welcomed from any of you who wish to contribute in Helping Haiti.
Now, I need to start seeing more skilled, certified and degree earned individuals to start posting their thoughts and those aspects instead of bickering senselesslly and pointlesslly on here which will resolve nothing.
Alors mes cheres compatriots,
Un Plaisir,
WILGEENS ROSENBERG
US ARMY

Wilgeens Rosenberg, March 13 2008, 3:40 PM
Start a NEW topic or,
Jump to previous | Next Topic >
< Previous | Home | Next >
Photo Stories
Audios & Videos